VERTICANA® SET 4x 35W 45° LED BULB + 2M RAIL FOR VERTICAL GARDENS & GREEN WALLS
VERTICANA® SET 4x 35W 45° LED BULB SET FOR VERTICAL GARDENS AND GREEN WALLS
In a set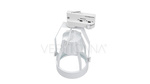 VERTICANA® SET 4x 35W 45° LED BULB FOR VERTICAL GARDENS & GREEN WALLS 
In a set:
VERTICANA® 35W LED BULB FOR VERTICAL GARDENS & GREEN WALLS 45° - 4 pcs

VERTICANA® RAIL HOLDER  - 4 pcs
VERTICANA® 35W 2M RAIL FOR VERTICANA SYSTEM - 1 pc


The LED grow bulb with beam angle of 45° is suitable for lighting plants at a distance of up to 2m. The bulb is compatible with all luminaires of the VERTICANA system. 
Model of the bulb: 35W-45D-W
Housing color: White
Socket: E27 (fits VERTICANA® holder or standard E27 holder)
Warranty: 24 months
Cooling: Built-in (active)
Bulb dimensions: 13x11x11cm
Light spectrum: white 5000K - "Day White"
CRI factor at max. distances: 77
Lumens: 3300